The Art of Fighting

Byung-tae is a teenager attending a tough high school, where the other students make it their daily habit to beat him up. Sporting perpetual bruises on his face, he spends his free time reading martial arts manuals and taking fighting lessons from various adults in town, in a desperate attempt to learn how to defend himself. Nothing seems to do any good, however.

One day, at a private reading room, he comes across an eccentric old man named Pan-su who possesses an amazing skill for fighting. It's not that he is powerfully acrobatic or unnaturally strong, it's that he is a seasoned expert in down-to-earth, realistic modes of fighting. In other words, he fights dirty.

Pan-su somewhat reluctantly takes Byung-tae under his wing and starts to teach him what he has learned about fighting and about life. These include gems of wisdom such as, "Sand and spit are the most useful objects at hand during a fight." Byung-tae tries his best, but at the same time he has a hard time shaking off the fear that he has been living with all these years.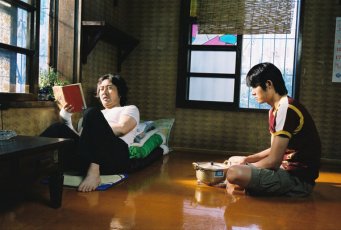 Debut director Shin Han-sol's The Art of Fighting is a different sort of action film, one that largely avoids impressive displays of physical movement, and instead focuses on the gritty, sensual aspects of fighting. Set in a grim, ugly-looking town where the people seem motivated by boredom rather than any enthusiasm for life, the film is most memorable for its black humor and the great presence shown by its two lead actors.

With vulnerability and steely determination reflected in his eyes, Jae Hee, best known from Kim Ki-duk's 3-Iron, is well-suited to the role of Byung-tae. It may seem superfluous to say this after 3-Iron, but Jae really can communicate a great deal to the viewer even when he is not speaking. Pan-su, meanwhile, is played by acting god Baek Yoon-shik, who has already shown his mastery in films like Save the Green Planet and The President's Last Bang. Here he plays this role with a mixture of world-weary passivity and sudden, electric bursts of violence. Although lacking the depth of the other roles he has played in the past few years, Pan-su possesses an attitude that is uniquely Baek Yoon-shik.

The Art of Fighting is well acted and capably put together, with a mostly predictable but engrossing narrative. Yet the film leaves you with an odd sense of emptiness. Part of this may be due to the inherent pessimism in the work, and its portrayal of a town where life is bleak and unlikely to improve. Yet on a cinematic level too, one wishes that there were just a bit more substance to the film. Ultimately Art of Fighting is worth watching, but is unlikely to rank as one of the highlights of 2006. (Darcy Paquet)

Credit: http://www.koreanfilm.org/kfilm06.html#artoffighting
Source: Jae Hee thread @ Soompi

Jae Hee is acting in another movie with Park Shin Hye from Heaven Tree?


I am so used to seeing her with her oppa-guy(Lee Wan) from The Stairway to Heaven and Heaven Tree that it feels quite weird to see a much older Jae Hee paired up with her who is ten years younger. but Park Shin Hye looks so mature and pretty in this photo. wow, guess it's another up and rising pretty korean actress.
I miss seeing jae hee in dramas! why does he have to reject acting in some drama recently? sigh.
hope to see him in kdrama soon, though i guess that would be hard since he seems to be really busy.